Calling in sick
Strongmen won't save us from coronavirus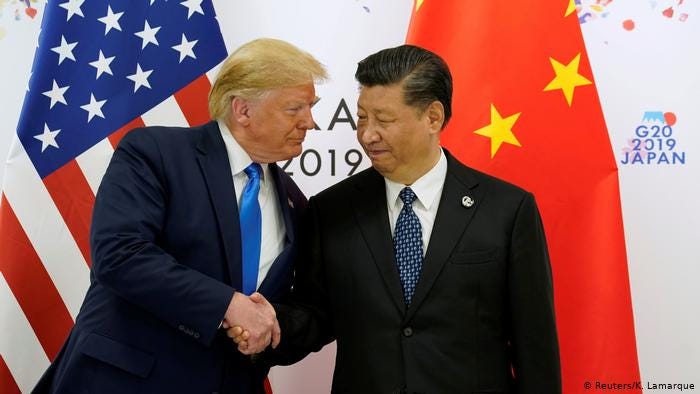 Welcome back to The Long Version, a newsletter by Jonathan Myerson Katz.
Earlier this month, the authoritarian leader of the United States called his counterpart in China. "Just had a long and very good conversation by phone with President Xi," Trump tweeted. "He is strong, sharp and powerfully focused on leading the counterattack on the Coronavirus. He feels they are doing very well."
We don't know if Xi went into more detail—if he conveyed that his underlings botched the crucial initial stages of the outbreak by silencing whistleblowers and projecting, ironically given what Trump took from the conversation, a false sense of confidence.
No one can even check, because the only official record of the conversation comes from China's Ministry of Foreign Affairs. Trump's White House, in a blatant effort to conceal the tracks of a president impeached in part for a phone call, doesn't publish summaries of his calls anymore.
It is becoming clear that China's second-chance strategy—to contain the newly discovered disease, officially called COVID-19, within the borders of the province where it spread—is also failing. It was probably inevitable that it would. Even an authoritarian regime could not keep track of every foreigner who visited and left carrying the virus, especially given the likelihood that most people who contract it don't show symptoms for days, if at all.
Twenty-nine countries, including the United States and Canada, now have confirmed cases. The virus is spreading in northern Italy, and there are larger pockets of person-to-person transmission in South Korea and Japan. There has been an alarming spike of deaths in Iran—"the largest number of reported coronavirus-linked deaths outside China," as news reports have it, though that factoid belies the gulf between China's official total (2,594) and Iran's (12).
The World Health Organization has not yet declared a global pandemic, but has "urged countries to prepare for its arrival." When that happens, for better or worse, only governments will have the resources and the power to respond. Our leaders aren't giving much cause for optimism.
Home Alone
Perhaps the most terrifying book I've read lately was Michael Lewis' The Fifth Risk, which covers the Trump transition from Obama. Every page is filled with snapshots of the Trump team's visceral antipathy for maintaining even basic competence in the agencies responsible for, say, keeping our food from killing us and nuclear weapons from accidentally exploding.
In 2018, Trump's then-national security advisor John Bolton dissolved the global health and biodefense team of the National Security Council. The dismissal of its chief, Tim Ziemer, a retired Navy admiral widely respected for his decades of public health experience, had experts alarmed.
"It is unclear in his absence who at the White House would be in charge of a pandemic," Beth Cameron, Ziemer's predecessor under Obama, said at the time.
In January, with the new outbreak already underway, Trump announced the creation of a coronavirus task force. Its head is Alex Azar, a former pharmaceutical industry lobbyist and executive at Eli Lily and Company who Trump made his secretary of health and human services. The State Department is represented by Stephen Biegun, whose previous job was overseeing the Ford Motor Company's lobbying in Washington and Beijing. Ken Cuccinelli, the unconfirmed deputy secretary of Homeland Security and noted science denier caught tweeting above, is also on the team.
Coordination is not going well. Last week, hundreds of American passengers were let off the quarantined Diamond Princess cruise ship in Japan. The State Department rushed to get all of them home, not bothering to wait for the results of a viral test. When 14 tested positive at the last minute, officials with the U.S. Centers for Disease Control and Prevention, better known as the CDC, urged the State Department not to let the infected passengers fly back with the other 314. Biegun's people ignored them.
Maybe his staff assumed the nativist president would not want to leave U.S. citizens stranded. Given Trump's official position on the epidemic ("very much under control!"), and his general lack of patience for details, perhaps they thought they were better off not bothering him.
But predicting the reactions of a leader who rules by tantrum is always dangerous. When he heard the news, Trump threw a fit. The businessmen running the task force will have to expend even more energy guessing what their boss—the germophobe-in-chief—will want next time.
China's early failures with the virus were a result of lower-level officials—selected for loyalty rather than competence—trying to keep secrets and guess what would make all-powerful national leaders happy. That's no way to run public health.
Home Alone 2: Lost in Virology
We still don't know some key facts about COVID-19. We don't know how many people have contracted it. That means we also don't know what percentage of people die from it. We don't know why the vast majority of officially recorded fatalities—all except about 120 thus far—have been in the landlocked Chinese province where the virus was first detected, Hubei.
We can be fairly sure the Chinese government is lying about some part of this, but no one—perhaps not even they—can be exactly sure which part. The World Health Organization doesn't seem eager to find out:
No one has to tell me that the CDC is also far from perfect, with a documented history of politically motivated coverups. Believe me, I know.
But with the virus spreading, our existing public agencies are the best shot we have at getting answers to the scientific questions, and ultimately producing a cure. Which makes it even more baffling that, as we speak, the Trump administration is proposing major cuts to the budgets of the CDC, National Institutes of Health, Medicare, and Medicaid.
In an example of the administration's scattered, appearance-driven approach, Secretary Azar is on Capitol Hill right now, asking Congress to approve $2.5 billion in emergency funding, while also defending the decision to cut the CDC's budget by $1.3 billion.
The entire emergency request is also less than the $3 billion the administration is cutting from the NIH—which has shouldered the burden of developing a coronavirus vaccine while Azar's friends in the pharma monopoly focused on making money.
One other thing we can learn from China is that, if COVID-19 does spread in this country, far more people will have to contend with the ripple effects than the cough and fever itself. It seems unlikely that federal authorities will be able to completely shut down American cities and ban internal travel, as China has done—though Trump will surely try. Things will likely get even more complicated than they already are at borders and airports, particularly for non-Americans and people of color.
If that happens, our communities will have to mostly be self-reliant. Hospitals will be overburdened. We will have to depend on the best sources of information we have. Social media should start immediately filtering out voices sowing disinformation and messages stoking panic and division—even if they come from the president himself.
There's no time to sub in a more competent administration, or build an accessible national health care system in the coming weeks. But we can insist on total transparency, and ensuring the most qualified available people are on the job, and have the funding they need to do it.
In the meantime, hope for the best. Get a flu shot. And wash your hands.
Thanks for reading and your support of The Long Version. Sign up to get this newsletter in your inbox below.
Jonathan Myerson Katz is a journalist and author. His next book, Gangsters of Capitalism, traces the origins and contradictions of America's empire through the life of Marine Corps Maj. Gen. Smedley D. Butler. Follow him on Twitter @KatzOnEarth.
Photo: Reuters