'I'm going to start disrespecting you.'
Hiding white supremacy in a world of maybes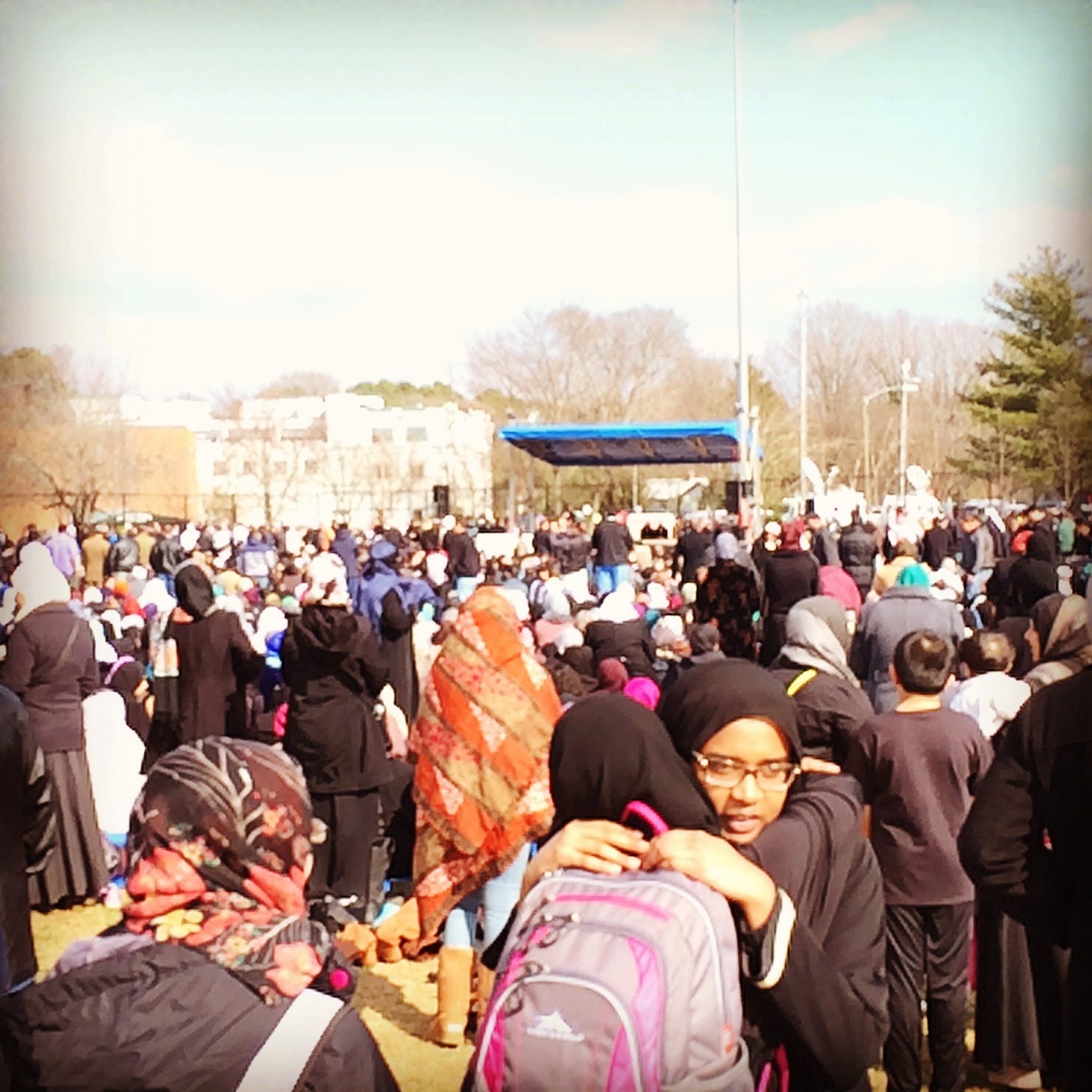 I have a brand-new piece at Mother Jones about the man who confessed to murdering three Muslim students in Chapel Hill, N.C., in 2015, yet was allowed to pretend he hadn't acted out of hatred and xenophobia for over four years. I'm republishing an excerpt below.
And if you haven't yet, please help support this kind of journalism by signing up for the mailing list. Just use this button:
In the old photos, the ones taken right after he was arrested for gunning down three Muslim students in their North Carolina home, Craig Stephen Hicks appears as a dumpy, chinless man with a mousy beard cut too high above the jawline. The style, if you can call it that, looks reasonable from the front but ridiculous from the side. It's often worn by men who are terrified of being laughed at for letting hair grow on their throat, but who can only ever see of themselves what they find staring back in a mirror.
He looked different at his long-awaited plea and sentencing hearing on Wednesday. More than four years of jail food and life away from the sun had broken down the fat. His spotty, pasty skin hung limp around a baggy orange jumpsuit. The neckbeard he'd once fought so hard to hide now sprouted across his jowls.
When Hicks murdered Deah Barakat, Yusor Abu-Salha, and Razan Abu-Salha, on the frigid evening of February 10, 2015, much of what we are now living through was also under the surface. America's first black president was still in the White House. The massacre at Charleston's Emanuel African Methodist Episcopal Church was four months away. The Nazi rampage through Charlottesville lay more than two years in the future; the mass shooting inside Pittsburgh's Tree of Life synagogue further off than that. Donald Trump would not launch his campaign with a racist tirade about Mexicans, Japanese, Chinese, Muslims, and others until that following summer.
At the time, that is to say, it was still possible for many to pretend—or at least, easier than it is now—that the obvious had not occurred in Chapel Hill. It was possible for police, politicians, and much of the media to look directly at an angry white man who'd barged into a young Muslim neighbor's apartment and executed everyone inside, including two women in hijab, and see something other than a clear and unmitigated act of Islamophobic terror.
They could see a man who'd amassed an arsenal in his condominium, including an AR-15 that he told police the night of the murders was "loaded up and ready to go," and see a "sudden, shocking spasm of violence," in the words of the Washington Post. They could see a man who posted anti-Muslim memes on Facebook and had a record of flashing guns and seething epithets at neighbors of color and repeat, uncritically, his soon-to-be-ex-wife's assertion that "the incident had nothing to do with religion or the victims' faith." They could regurgitate her self-delusion—freshly disproven as forcefully as anything has ever been disproven—that he was merely "a champion of Second Amendment rights" who "believed everyone is equal." His motive could be cast as a great unknowable.
In a pattern that would repeat itself in the white supremacist massacres to come, tastemakers went looking for anything that could complicate the narrative. Many seized on the fact that Hicks called himself an "anti-theist," and in addition to anti-Muslim memes had denigrated Christianity and Judaism on his Facebook page. Once he said it would be okay if Obama were Muslim. Another time, he said of all three Abrahamic faiths: "I wish they would exterminate each other!" This proved, the Associated Press said, that he was "a man of contradictions."
That's when the Chapel Hill police stepped into the breach. Less than 24 hours after the murders, they announced the erroneous excuse that would spread around the world: that Hicks may have been motivated by "an ongoing dispute over parking."
Thanks to the evidence produced at the hearing, we now know the truth: That was a lie, based on nothing more than the word of a man who had just walked in off the street and confessed to a triple homicide …
Thanks again for reading. Again, if you haven't yet, please sign up for The Long Version using the button below. And please encourage your friends to do the same.
You can check out past issues of The Long Version here. I'll be back with another original edition of the newsletter soon.