Upheaval in the colony
Welcome back to The Long Version, a newsletter by Jonathan Myerson Katz. An adaptation of this edition was published by Slate.
I know, I just put out a Long Version yesterday, and the last thing I want to do is spam you. But the protests rocking Puerto Rico right now are just the sort of thing this newsletter was made for. So I'm going to do a quick one to get you up to speed. Stay tuned until the end for a special message for subscribers.
After Hurricane Maria plunged Puerto Rico into a long darkness on Sept. 20, 2017, a slogan appeared on T-shirts and bumper stickers: Puerto Rico Se Levanta, or "Puerto Rico rises." Nearly two years later, it's happened, but in a way the corporate sponsors who printed the merch didn't anticipate:
Thousands of people, possibly as many as a hundred thousand, are turning out every day to shut down business as usual. They are jamming interstate-style highways and filling the cobblestone alleys of Old San Juan to demand Gov. Ricardo "Ricky" Rosselló resign—and take the White House-appointed financial oversight board that really runs the territory with him.
At night, smaller groups are standing off against police. The protests have even spread to Puerto Rican communities in New York:
The immediate spark for all this was the release of 889 pages of Telegram chat logs between Governor Rosselló and his inner circle, discovered, published, and analyzed by Puerto Rico's Center for Investigative Journalism. Rosselló's pals, who called themselves "los 'brothers'" in Spanglish, were caught trading homophobic and sexist cracks, and mocking the hurricane dead.
Even more damning was evidence of the pillaging of millions of dollars in public funds by the governor's inner circle, which seemed to confirm already mounting allegations of high-level corruption. This included an apparent influence-peddling scheme to steer overpriced hurricane-recovery contracts toward clients of a lobbyist who was also Rosselló's former campaign director and the best man at his wedding.
All of that would cause a headache anywhere. But the scandal landed on already smoldering rage over the colony's ongoing economic collapse. "We were already in the Great Depression of Puerto Rico," José Carballo Cueto, an economist and associate professor at the University of Puerto Rico at Cayey told me when I visited a few weeks after Hurricane Maria. It's just gotten worse since.
To understand what's going on in America's oldest colony, let's take a quick trip through time:
The Long Version
In 1898, shortly after the United States declared war on Spain over the status of Cuba, U.S. warships cruised east to seize Puerto Rico. The Puerto Rican archipelago (the main island, the outer islands of Culebra and Vieques, and uninhabited Mona) is strategically positioned at the northeastern corner of the Caribbean, guarding the point where ships from rival powers in Europe would arrive.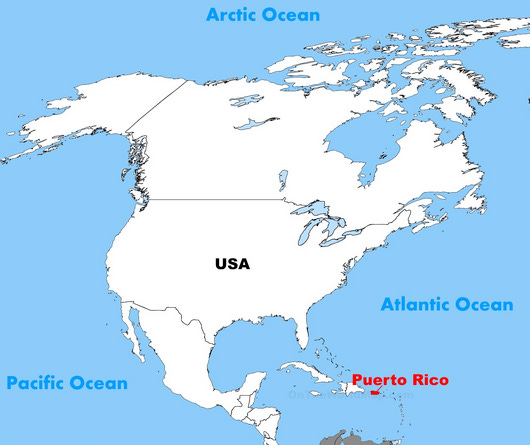 While anti-imperialists in Congress prevented President William McKinley from fully annexing Cuba, Puerto Rico instantly went from being a colony of Spain to a wholly-owned colony of the United States. (We seized the Philippines, Hawaii, and Guam at the same time, as well as Cuba's Guantánamo Bay.)
A New York Times correspondent observed: "There can be no question to perplex any reasonable mind about the wisdom of taking possession of the Island of Puerto Rico and keeping it for all time."
A few years later, Congress authorized Puerto Rico to issue tax-exempt municipal bonds in an effort to attract mainland investors and build up the colony. The debt from the bonds was somewhat balanced out by tax breaks which attracted other U.S. companies to physically set up shop on the island.
In 2006, thanks to a law Bill Clinton signed ten years earlier, a lot of those tax breaks came to an end. Companies started to leave. Puerto Rico's budget went upside down. The territorial government tried to make up the shortfall by issuing increasingly sketchy bonds financed by Morgan Stanley, Citigroup, and others. In 2015, the then-governor was forced to admit that most of the now-$124 billion debt could not be paid.
Instead of forgiving the crushing debt burden laid on a captured colony, Barack Obama signed the Puerto Rico Oversight, Management, and Economic Stability Act, or PROMESA (the cute Spanish backronym means "promise"). In exchange for protecting the territory from lawsuits, the president got to appoint a seven-member Financial Oversight and Management Board that would control its budget and negotiate its debt restructuring.
Puerto Ricans call this board La Junta. It meets in New York.
Under Trump's leadership, the board has imposed even stricter austerity, worsening the impact of the financial crisis on Puerto Ricans. Scores have left for the mainland. The hurricanes, fueled by climate change, helped push out even more. I've been to the island to report twice this year, in March and June. Each time it seemed like more people had stories of family members leaving, schools closing, and businesses shutting their doors.
Status: Pissed
The chant of the protests is: "¡Ricky, renuncia … y llévate la junta!" That means: "Ricky, resign and take the Oversight Board with you."
The island-wide strike appears to have been mostly spontaneous, without a clear leader or political focus. That may be by design. By focusing on the governor, protesters can avoid the bigger question underlining the crisis, which has fractured the islands' politics for years: How to manage the relationship with Puerto Rico's colonizer, the United States.
You can see signs of all those factions in this photo from the New York Times: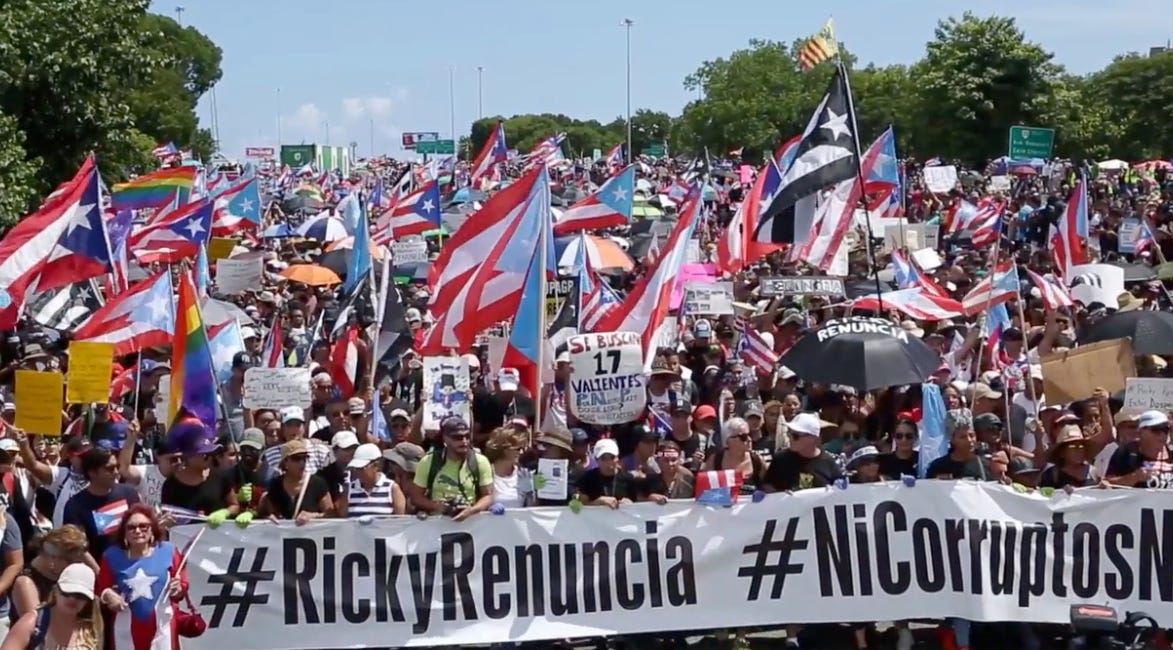 The flags with the lighter blue fields are the pro-independence version. Known as "azul celeste," they're meant to more closely resemble the original Puerto Rican flag. (It was based on an inversion of the Cuban one, years before the U.S. came along.)

Others are waving the darker, currently official versions of the flag, where the blue matches that of the U.S. Stars and Stripes. That flag is usually associated with statehood—position backed most prominently by Rosselló's New Progressive Party (which is, confusingly and despite the name, fairly conservative).

Finally, toward the front, you can see the newest, black-and-white version of the flag, symbolizing resistance and generally being fed up with everything.
For decades, the pro-statehood faction and the smaller but traditionally more intense nationalist faction have battled each other to a stalemate. One of the major opposition parties, the Popular Democratic Party (San Juan Mayor Carmen Yulín Cruz is a member) formally favors the status quo.
But that condition may not be able to withstand the movement forming in real time. When protestors denounce la junta, they're talking about an all-powerful foreign board, whose decisions they blame for worsening their lives, appointed by a distant president they aren't even allowed to vote for.
Which brings us to …
……….. Trump
I hesitate to give the man more space than he's already grabbed for himself in this mess, but there is one thing I've got to say. In coverage of the protests, I've heard several commentators (The Daily's Michael Barbaro was one) say something along the lines of: Guess this proves Trump's criticism of the Puerto Rican government was right!
Just throw that take in the basurero. Trump said a lot of things while he was screwing up the hurricane response. As the death toll mounted—roughly 3,000 people died as a result of the storm and yearlong blackout—he tried to deflect from own circle's deadly incompetence, racism, and corruption by yelling a lot, making up fake statistics, and blaming everything on the victims of the storms. Now he's trying to claim the scandals and protests since prove him right. It doesn't work like that.
Far from than criticizing Rosselló at the time, Trump praised him: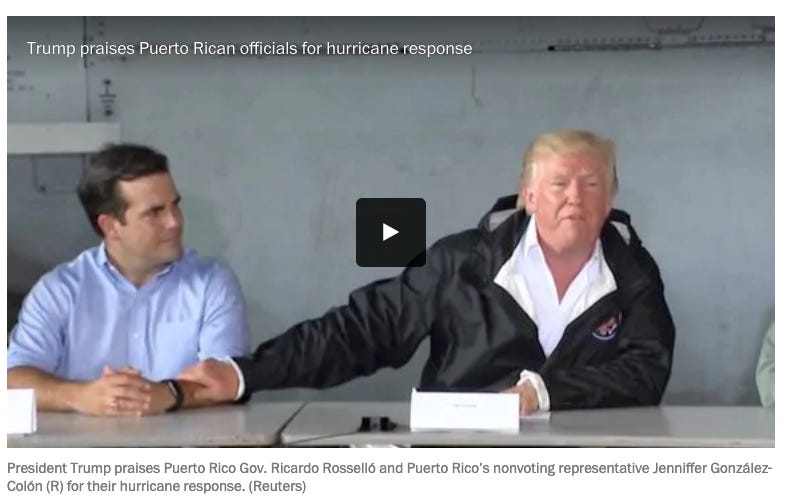 True, Trump likely knew nothing about what Rosselló was up to. He's notoriously ill-informed, and showed little interest in the details of Puerto Rico, a place whose Hispanic, mixed-race citizenry he clearly does not see as a legitimate part of the United States.
Rather, Trump was attracted to the governor because his soft praise for the president offered an alternative to Trump's real enemy: San Juan's Mayor Cruz, who represented his least favorite combination of things: a woman of color criticizing him on TV.
In fact, Trump is so confused that he is still going after Cruz in response to the protests, despite the fact that the San Juan mayor was: a) one of the targets of derision in Rosselló's group chat; b) is not a focus of the protests; and c) has called for the governor's impeachment. (Cruz is also a national co-chair of Bernie Sanders' campaign.)
The relationship between Trump and the governor didn't really fall apart until a few months ago, when Rosselló embarrassed him by pushing back on yet another of Trump's attempts to lie about his dismal record. Trump then went off the rails, implying that Puerto Rican statehood was dependent on officials showing fealty to him, personally.
If anything, Rosselló's cozy on-screen relationship with Trump after the storms is part of what's damning him in protesters' eyes. The vast majority of Puerto Ricans hate Donald Trump—more, pre-scandal polls said, than hated the governor. That's a sentiment that is only likely to grow as the waves of dissent grow larger. It would be ironic if, 121 years after one president haughtily seized the island, another one's ego pushes it away.
That Message to Subscribers!
Thanks as always for reading. Starting in August, I'm going to open The Long Version up to paid subscriptions. For those of you who want to stay on the free plan, don't worry, very little will change. I'll still be putting out an issue roughly once a week available to everyone, free of charge.
For those who want to go deeper—and help support both my work and this new model of independent journalism—I'll be offering a paid option. Paid subscribers will get bonus issues and podcasts, full access to the archive, and my gratitude. Urgent issues like this one, for instance, may end up being only available on the paid plan.
I'll keep you posted on the details. In the meantime, please keep sharing this with friends and colleagues. And if you haven't yet, you can sign up—for free!—below:
Jonathan M. Katz is a freelance journalist, author, and national fellow at New America. His next book, Gangsters of Capitalism, traces the origins and contradictions of American empire. You can follow him on Twitter @KatzOnEarth.