View from The Ville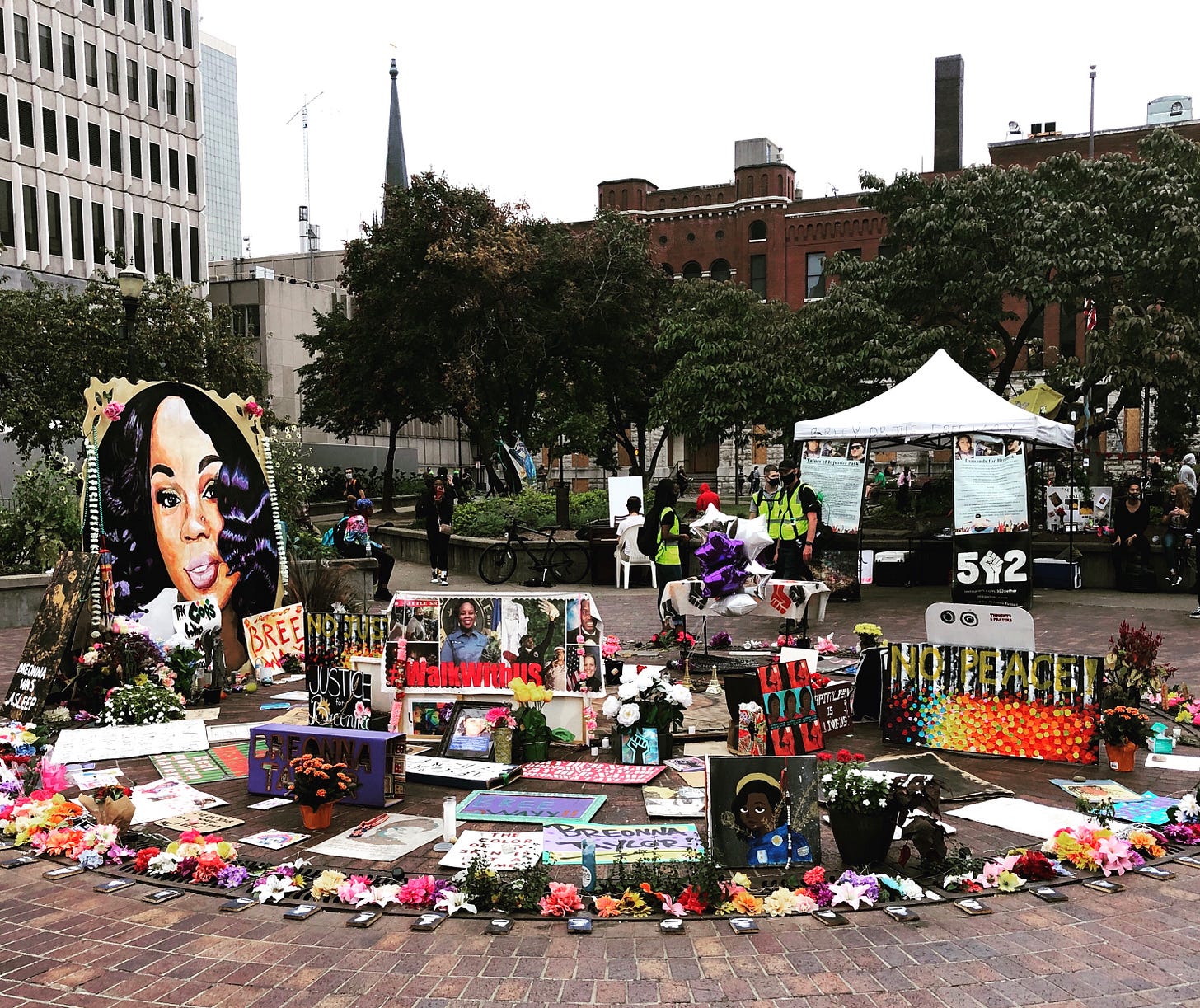 I was headed into Louisville to visit my parents when word came down that none of the police officers who shot at Breonna Taylor in her home—Myles Cosgrove, Jonathan Mattingly, and Brett Hankison—would be charged in connection with her murder. Only Hankison, whose long record of gross misconduct got him fired months ago, was indicted—with endangering the lives of three of her white neighbors.
In the six months since Taylor was killed, many Americans have been casting around for someone to blame. The right-wing agitprop machine has targeted Taylor's boyfriend, Kenneth Walker, who fired in self-defense at the police as they barged into her apartment. The post-racial "cultural critic" Thomas Chatterton Williams directed his "outrage … primarily at" her ex-boyfriend, Jamarcus Glover, the closest figure to the archetype of toxic Black masculinity he's won a little fame polemicizing against.
May I suggest … the police. It was the police who served a bad warrant, out of uniform, in the middle of the night—having quietly announced themselves, if at all. It was three cops—Mattingly, Cosgrove, and Hanikson—who responded to a single attested shot (which may not have even hit anyone) as if they were storming Fallujah: pouring 32 rounds into her apartment, pausing to reload. It was the cops who either didn't turn on or deleted the footage from a body camera, and violated their own policies meant to ensure an impartial investigation. It was the police who, after filling Breonna Taylor's body with five bullets and a fragment, let the 26-year-old emergency room technician bleed to death on her floor.
They did so because they have the mentality of the American cop: that they are the heroes of every story, and that anyone who fights back or even questions their authority is a criminal unworthy of rights or respect. It's what prompted a gang of NYPD officers yesterday to bum rush a group of curious pedestrians who were merely filming them from across the street; and turns Portland police into violent maniacs on a nightly basis.
Sgt. Mattingly laid it out himself. In a mass email sent to his fellow officers the night before Mitch McConnell's protegé, Kentucky state attorney general Daniel Cameron, announced he would be getting off scot-free, he defended his role in Taylor's slaying and predicted the backlash that would ensue:
I know we did the legal and ethical thing that night. It's sad how the good guys are demonized, and the criminals are canonized. Put that aside for a while, keep your focus and do your jobs that you are trained and capable of doing. Don't put up with their shit, and go home to those lovely families and relationships …

Now go be the Warriors you are, but please be safe! None of these "peaceful" protesters are worth your career or freedom.
The whole thing is worth reading. It's all there: the Manichaeism, the protestations of racial innocence, the implication that the woman he helped murder—a citizen he knew before he arrived was not suspected of any crime—was a "criminal." The inscrutable combination of a "warrior" ethos with the cowards' creed that the overriding goal in battle is to "do what you need to do to go home [to] your family."
There's a long history behind that kind of thinking, and allowing that kind of thinking, everywhere in America. My hometown is no exception.
The Long Verison
In the 1960s, white Louisvillians talked with pride about their progress in ending Jim Crow. Unlike elsewhere in the South, they had integrated their public schools just a few years after Brown v. Board of Education, and passed a widely respected city ordinance outlawing racial discrimination in public accommodations.
But there was a catch. In late 1963, the man who would become the most famous journalist to come out of the Derby City, Hunter S. Thompson, wrote: "What is apparent in Louisville is that the Negro has won a few crucial battles, but instead of making the breakthrough he expected, he has come up against segregation's second front, where the problems are not mobs and unjust laws but customs and traditions … The white power structure has given way in the public sector, only to entrench itself more firmly in the private."
This new form of segregation worked by denying Black residents housing and jobs. Under the banner of "urban renewal," backed by Federal Housing Authority loans, Louisville's Black residents were being ushered—politely!—out of the formerly segregated downtown. They found the only place they could buy a new home was in the newly "integrated" neighborhoods of Louisville's West End—an "old and tree-shaded neighborhood bypassed by progress and now in the throes of a selling panic because of the Negro influx."
Residents insisted this was not because of racism. "Talk to a man with his house for sale and you'll be given to understand that he is not moving because of any reluctance to live near Negroes. Far from it; he is proud of Louisville's progress toward integration. But he is worried about the value of his property; and you know, of course, what happens to property values when a Negro family moves into an all-white block. So he's selling now to get his price while the getting is good."
"There is a growing fear, shared by whites and Negroes alike, that the West End is becoming a black ghetto," the future gonzo journalist wrote.
Over the next few years, as social services and money ran out in West Louisville, the police turned increasingly to brutal means of keeping the population in line. In May 1968, a white patrolman named Michael Clifford stopped two Black men—an elementary school teacher and a real estate agent—because their car fit the description of one used in a drugstore robbery. When the men protested their innocence, the cop hit one of them in the face.
But the men, like Taylor, were truly innocent; a review board found the officer had acted against police regulations, and recommended he be dismissed.
By May 27, rumors were spreading through the West End that Clifford was going to be reinstated onto the force. Tensions were already running high; among other things, Martin Luther King Jr. had been assassinated by a white vigilante eight weeks earlier in Memphis. A crowd gathered to hear speeches by James Cortez, an aide to Stokley Carmichael (later known as Kwame Ture), and other Black leaders. The police stood nearby in a show of force.
Around 8:30 p.m., someone threw a bottle in the cops' general direction. The policemen charged. More bottles were thrown. More police showed up. In short order, the melee broke into an all-out riot. West End residents broke windows, set fires, and looted stores. The police killed a Black teenager; at least one other West End resident died as well. The mayor ordered a curfew. The governor sent in the National Guard.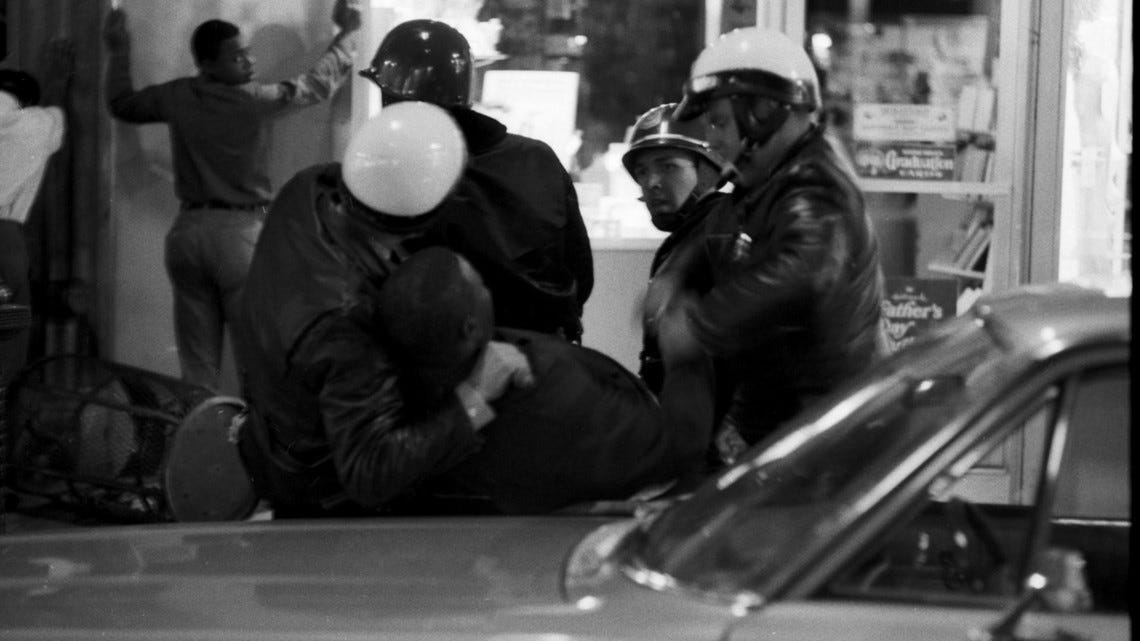 White Louisvillians reacted with horror and disgust. Watching the action unfold on TV from the comfort of their homes, they had to decide which they valued more: their illusions of safety as guaranteed by a brutal police force, or civil rights for everyone? Their property values, or their neighbors' lives?
They made their choice. White storeowners shut their doors and the last white residents left the West End for the suburbs. Over the next decade, the population of the neighborhood where the riot started would drop by 25 percent. Today, Louisville's West End is home to several of Kentucky's poorest zip codes.
Derby City Redivided
The pretext for the raid that killed Breonna Taylor was an operation focused on the West End house of her ex, Glover. (Not to be confused with Walker, the boyfriend who was with Taylor when she died in a mixed-race neighborhood to the south.) Glover's street, Elliot Avenue, was the focus of a new "urban renewal" project; after she was killed and he was arrested, the city bought his house for $1.
Once again, Louisville police are responding to Black residents' (and their allies') rage with violence. In the nights since Mitch McConnell's protegé, state attorney general Daniel Cameron, announced that the officers who killed Taylor would be getting off scot-free, police have run roughshod over grieving people: provoking protesters ahead of curfew, beating and gassing them in the streets.
On Wednesday, the police besieged nonviolent protesters who had sought refuge in a Unitarian church; among the dozens they arrested were State Rep. Attica Scott, the only Black woman in the Kentucky state legislature and the creator of "Breonna's Law," which would ban "no-knock" warrants like the one that led to her death.
Police have been injured in the tumult as well. On Tuesday, two police officers were shot downtown. A 26-year-old Black man from Louisville was arrested and is being held on a $1 million bond. Neither officer was seriously injured; when one showed up for roll call the next night, his fellow officers greeted him with a standing ovation.
There won't be any standing ovations for Taylor. If the police had made the safety of the entire public—including the Black population—their priority, they wouldn't have broken into an innocent woman's apartment in the middle of the night. They wouldn't have forced a deadly confrontation for which no one is being held responsible. Everyone could have gone home, or stayed home, with their "lovely families and relationships."
But here we are. Once again, most Louisvillians—most Americans—are watching the action on the streets from the comfort of our homes. A new generation of white folks are congratulating ourselves on our tolerance and progressive-mindedness. But have we moved forward at all in 50 years? Do property values still matter more than Black lives? What does it mean that a Louisville cop could get fired for brutality in 1968, while his successors can't even catch a charge for murder in 2020? Will those of us with the power to change things do anything different this time?
Thanks for reading. You can sign up to get this newsletter in your inbox below:
Jonathan Myerson Katz is a journalist and the author of The Big Truck That Went By: How the World Came to Save Haiti and Left Behind a Disaster. His next book, Gangsters of Capitalism, traces the life of Gen. Smedley Butler and the making and breaking of America's empire. Follow him on Twitter @KatzOnEarth.
Top photo: Mine, Breonna Taylor memorial in downtown Louisville, Tuesday evening
Middle photo: Larry Spitzer, Courier-Journal, May 27, 1968